Brazilian Pepper Thrips Facts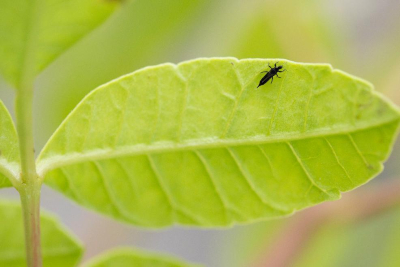 The Brazilian pepper Thrips (common name), or Pseudophilothrips ichini (scientific name) begins work on a Brazilian peppertree inside the UF/IFAS-IRREC Norman C. Hayslip Biological Control Research and Containment Laboratory
Common name: Brazilian pepper thrips
Scientific name: Pseudophilothrips ichini
Native to Brazil
The Brazilian pepper thrips feeds on the growing tips of Brazilian peppertree. &nbsp
Both adults and immatures feed and damage Brazilian peppertree.
Feeding by the Brazilian pepper thrips can cause growing tips of the plant to die and can significantly reduce plant growth and vigor.
Immatures feed by piercing young shoots and sucking plant sap.
Adults feed on young stems and can also feed on the flowers, causing them to abort.