Laboratory Overview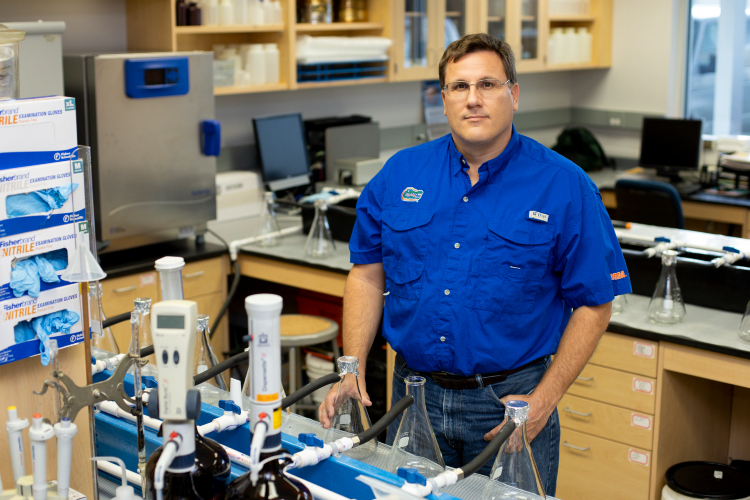 Dr. Wright's work begins in the lab in Fort Pierce, and extends to fields across the Indian River District, to the Everglades Agricultural Area - south of Lake Okeechobee. He is also a member of IRREC's team of soil and water research scientists, who support the world's premier citrus production region.
Dr. Wright's extension and public outreach activities include efforts to educate growers and the public about agricultural stewardship and environmental conservation.
Research

Research at the Wright Soil and Water Science Laboratory extends far beyond the brick and mortar lab at the UF/IFAS Indian River Research and Education Center (IRREC), in Fort Pierce. Dr. Alan Wright's expertise focuses on crop production and wetland conservation relating to soil and water quality.

Dr. Wright's research program is directed at understanding the biological and chemical factors affecting nutrient cycling in agricultural, urban, and wetland ecosystems. Specific focus is on assessing linkages between agricultural land uses and wetlands; optimizing soil and crop management practices for agriculture in the Indian River region; and identifying factors contributing to successful restoration of wetlands in the Everglades.

A second research focus involves Florida's expansive wetlands. Dr. Wright strives to improve Florida's aquatic ecosystems and water quality through biogeochemistry research of Everglades agricultural and wetland soils.

Research Objectives

Research Collaborators

UF/IFAS County Extension Agents throughout southeastern Florida
EAA sugarcane and vegetable growers
Indian River District citrus growers
Private industries
general public

Extension

Dr. Wright's Extension program is directed at delivery of information to growers, water managers, and extension agents in Florida through field days, demonstration projects, presentations at commodity association meetings, face-to-face interaction, and EDIS publications.

Dr. Wright's research and extension program involves collaborations with faculty at the University of Florida and other universities across the U.S., and international universities.